1
« on: February 06, 2018, 02:33:11 PM »
CHARACTER
Name:
Shoko-La Bitter
Age:
28
Species and Gender:
Cougar Faunus - Female
Symbol:
Occupation:
Mercenary/Hitman
Theme:
https://www.youtube.com/watch?v=ESMyzfKdKU8
Appearance:
My most obvious physical characteristic is clearly my breathtaking good look. Whenever I glance at my reflection in a mirror I can see deep red locks casting dark shadows over bright golden feline eyes that shine with intelligence and concealed ruthlessness. Full red lips, often curved in a smug smile, hide pearly white teeth (and slightly longer than average canines) and are surrounded by healthy and silky smooth naturally tanned skin. My figure is enviable, as I stand at 1.75 centimeters and have all the right curves, not too much, not too little: just perfect. I'm also quite proud of my long tail, that I brush every morning, that has the same color of my hair and helps me quite a lot for maintaining my balance during acrobatic moves. Unfortunately, I have to keep it hidden most of the time, by coiling it around a leg or my waist (under my clothes, obviously). I'm a woman in my prime, dripping with sensuality. A predator: dangerous, yet oh so tempting nonetheless.
I don't want to waste too much time describing my attire, so suffice to say that I often change clothes depending on the circumstances and even have some outfits that would not be out of place in a spy movie.
History:
I would like to confess my sins, to have someone or something forgive me, but I can't because my heart is empty. And it's empty like a mirror that I'm forced to stare at. I see myself reflected in it, and I read only fear and disgust. I behold indifference towards both Faunus and humans, as they were unrecognizable. I catch glimpses of nightmarish images born from my fantasies and dreams. Sometimes I think that it would be just better to die... or better yet, to kill.
T.L.D.R
Shoko was a poor faunus girl in Atlas, thanks to her parents she was introduced to a young boy from a wealthy atlesian family and became his childhood friend. His family hired her as a maid and they grew together, eventually becoming lovers. It was an abusive relationship, however, and while he did teach her how to fight and unlocked her aura, she was constantly beaten and had to submit to his every whim. Eventually, she became pregnant and had an abortion because of the beatings. Finally, when she was nineteen, she unlocked her semblance and managed to kill him. She went to the White Fang to find refuge and hone her skills, then moved to Vacuo and entered the underworld, eventually becoming a respected and feared hitman know with the nicknames of "Killer Geist" and "Phantom Assassin".
Personality:
I don't really like to talk about myself. I'm quite sociable, but that doesn't mean I like to socialize. I just want to enjoy my life, do whatever and whoever I want and sleep and eat and dance and feel the indescribable satisfaction of the rush I get from watching a person die by my hand. Oh but don't get me wrong! It's not like I'm about to go on a murder spree or anything! It's more like the good feeling at a job well done. I like to do things at my pace, I don't like to be rushed or ordered around. After all, cougars are ambush predators, and patience is a virtue.
I don't care for justice or for what's right or wrong. After all, what makes us humans or faunus is precisely the faculty of distinguish between right and wrong and the possibility of simply ignoring the difference. I like to think I'm a fun person to have around, all things considered. Soooo...
So you better watch out,
you better not cry,
better not trust I'm telling you why:
I just might decide of shooting you down!
I' like to make lists and check them twice,
Gonna find out who is naughty or nice if
Shoko-la is coming to town.
I see you when you're sleeping,
I know when you're awake.
I know if you try to get away
but I'll kill you anyway!
So you better watch out,
you better not cry,
you better not trust, I'm telling you why:
I just might decide of shooting you down!
Ok, all kidding aside I enjoy some company as much as the next guy. The only things I just can't stand are violence towards kids, forced intercourses, and gratuitous violence. Having said that, if you want to find out more about me, you'll have to get to know me from up close.
Hobbies:
I don't have few fixed hobbies, instead, I like to do a bit of everything (except drugs). I like to drink, eat, dance, listen to music, read, do sports (even extreme ones), travel, visit museums and participate in cultural activities. I like to have sex, do robberies, assassinate people, earn a lot of money and spend them on luxuries. I like to train and fight and take care of my appearance. I sometimes enjoy gardening and have a couple of exotic carnivorous plants I take care of. I absolutely love dust and like to experiment with it and find new ways to make it explode. There are probably other things, but at the moment nothing else comes to mind, so this will have to do.
Work ethic:
I don't kill anyone under seventeen. I don't kill pregnant women. I don't work in Atlas, so if you want me to kill someone from Atlas you have to wait until it leaves the kingdom. I don't cause unnecessary deaths, so no massive explosions in the middle of a busy street. I just kill, I don't like to inflict more pain than necessary and I don't use torture unless it's a personal matter. I decide when and how to kill my target, so if you want to place a deadline or some other restrictions I demand to know why and I reserve the right to decline the job or increase the price at my discretion. I don't haggle, so either you accept my price or you don't or either I accept a job or I don't, end of story. I just kill, I don't do deliveries, so if you want to kill someone with your own hands or something like that then don't bother me. I am a serious professional, so don't appeal to my goodwill or any such nonsense to have a discount or a job for free. I don't like to have debts, so if you think I owe you something either I don't or I plan to kill you before you can collect. If you owe me something (and I usually prefer not to put myself in this sort of situations) I'm usually in no rush to collect, but if I get so much as the smallest hint that you don't plan to pay me back or simply can't, I'll put you on my blacklist and you'll die sooner rather than later.
I do not entertain relationships, not during a job nor in other contexts, so if you try your luck with me you do it at your own peril (I will probably add you to my blacklist anyway just for trying unless you're able to really make me scream in the bedroom, I don't care if you're a man or a woman).
Having said that I'm still open for other jobs besides my main one, but I have to consider them worthy of my time and efforts. I don't mind working for someone as long as I'm treated with the respect I deserve, this means that if you bother me too much I'll put you on my blacklist.
Aura and Semblance:
Jelly Pudding
This Semblance can be considered just a form of advanced aura manipulation. Shoko is able to condense up to 99% of her aura outside her body, and what turns out is a semitransparent jelly which looks made of honey (the color of her aura), that can be manipulated in various ways.
Combat Behavior:
I love a good fight. I relish the challenge and always strive to better myself. After all, I can't hope to stay on top of the food chain if I start resting on laurels. So it is my habit to meet weekly a professional huntsman or student in order to train, of course, I have to pay them and fed them some sad story about how I was once raped by a huntsman and had to learn how to defend myself and now just want to keep training. Long story short I'm a really good fighter, even if I'm not necessarily required to be given my style of assassination, so good in fact that I'm able to easily beat first and second-year students and consistently best even professional huntsman. This is if there are no semblances involved. Let me tell you I've come across some crazy ones... Once a sparred with a student that could manipulate metal and turned my guns against me. How is that fair? Another time there was this huntsman with a huge (and I mean freaking huge) sword and a metal arm with a cannon in it, with a semblance that could manipulate the weight of his weapon, so he swung it like a feather but when it hit it was like being run down by a truck. But little old me doesn't like to use her semblance during spars (it's best to keep it a secret), so I try to win using only my gun-kata, dust expertise, quick thinking and sweet acrobatic moves (the moves are similar to capoeira). I'm a sniper when using my guns but also a beast in close quarter combat. In terms of actual skill and experience I'm on par if not stronger than most huntsman and unlike them, I've trained in order to fight human opponents and not Grimm. Which in turn means that I have practically no experience in fighting non-humanoid opponents. Sure I have a summary idea of the most common types of Grmm, but I would most likely struggle against even a group of Beowulfs since I've never faced even one of them and I'm not good at all against multiple opponents. Four guns are awesome if you want to pressure one or two people (I can probably keep at bay up to three enemies if I also use my semblance) but a horde of man-eating monster that recklessly comes at you without regard for their own safety? Nope! I can't deal with that. Yeah, I know that a threat like that is something of a joke for a professional huntsman, but I'm no huntress so don't judge. I'm not saying I can't fight Grimm at all, but that I'm likely to do some stupid mistakes. Plus from what I've gathered, guns aren't exactly the best weapons to kill grimm (that's why Huntsman have swords, maces, axes and the like even if we have flying machines), because you need too many shots to bring down even one big ursa.
But against humans my fighting style is pretty solid because I usually have the advantage in any range, so how do you beat me? Well, I'd like to say that you simply have to be a better fighter than I am, but that would not be strictly true. The fact is that fighting only with guns and being a quick and agile fighter means that my actual punches or kicks are actually pretty weak and I lack a true mean of defense against some of the big weapons hunters often use. How am I supposed to block a huge sword capable of shattering the ground or cleaving an ursa in two? My only option is to dodge or deflect if possible, and if I can't then I'm probably a goner. What's more, even if I blocked successfully my guns may be damaged or I could be disarmed by the impact. Another thing some huntsman use are shields... yeah I hate those. If the huntsman is any good he will probably be able to deflect every single shot... Finally I obviously heavily rely on my senses to fight, and while there are some able to continue to fight even with impaired vision, I simply can't judge distances or aim properly if I'm not at 100% in the sensory department. So I guess I have to be extra careful in defending my eyes and ears... Well, to be honest even a wound to a leg can be a death sentence because my mobility is pretty much the only thing that gives me a real edge against most other fighters and without it things can get complicated.
But if you are not a Grimm and don't have a huge weapon or a shield, then your best bet is probably to get as close as possible and beat me in hand to hand combat. Enclosed spaces are also not very good for me because they limit my ability to jump around and keep my distance. But why the hell am I telling you these things? Go figure it your yourself dammit! It's not like I'm confident I can still kick your ass anyway or something like that... pffft, yeah I totally can!
So... long story short: I fight with a double-barreled gun for each limb, while constantly moving (often close to the ground) with acrobatics, spins, somersaults and the like, firing continuously with the various guns and mixing dust ammunition to combine dust effects.
WEAPON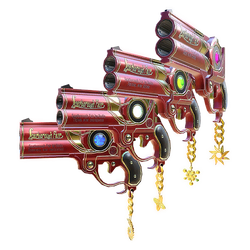 Name:
Vanilla, Cinnamon, Ginger, Saffron
Primary Form:
My spices!
You know these are actually the guns I stole from my first boyfriend? I had some tweaks done over the years, but the design has remained mostly the same. Each gun has two barrels and equips two different kinds of ammunition, so I can potentially have up to eight different kinds of projectiles at my disposal at any given time. The guns are very solid and can be used as blunt weapons or as a defense tool in close quarters. They are basically all identical, except for a little pendant that differentiates them. All are equipped with the same mechanism that allows to secure them to my custom made shoes, in order to allow me to fight with four guns simultaneously. The guns have two triggers so I can choose which barrel has to fire, but if I pull the two triggers at the same time the two ammunitions combine into one, mixing the dust they contain. For the guns anchored to my feet, the mechanism relies on my toes to activate the triggers.
Secondary Form:
Two of the four guns can mecha-shift and combine to produce a single barreled sniper rifle (unfortunately I have to bring and assemble the sniper viewfinder separately) that can fire any combination of the four types of ammunition contained in the original two guns. All the guns can mecha-shift this way, so I can decide which are best for the occasion and can potentially fight using two guns and a sniper rifle, instead of 4 guns.
Dust Functions:
Now here comes the part that I really love about my spices: the endless combinations of dust I get from combining the cartridges. It's practically impossible to predict what kind of projectile I'll shoot next, especially if I switch the guns from limb to limb or change the magazines during a fight. So... we have Fire, Air, Water, Earth, Lightning, Gravity, Ice, Steam, Propulsion, and the good old metal bullet. That makes ten kinds of ammunition. Now I could make a list of all the tricks I can pull of mixing dust, but as you can probably imagine that would be quite tedious for me, so I'll do it only if required and even so I'll probably stick to the most uncommon ones. However, just because I'm a nice person, I'll give you an example for free: what would happen if I fired a Steam ammo with a Fire one? You guessed it! Scalding Steam! That's really nasty if I manage to hit you in the face...
Or how about Water and Earth? You get mud, right? And what happens if I fire a third dust round into the fray? Say a Gravity one? My guess is that you get a very heavy mud that can hinder movements. Or I can dry it with Fire, or froze it with Ice. And don't even get me started with the most obvious ones like Lightning and Water. Anyway, I think this should suffice to give you an idea.
Of course, I usually equip propulsion dust in the guns that I anchor to my feet in order to get even more mobility.
History:
Nothing to say here, really. Just go read my story and the description of the weapons.